founded and published by
Elisabeth Greinecker & Julian Turner

panel@implizit.org
ISSN 2223-845X
Panel is an artist magazine based in Vienna. Each issue forms around the idea of finding a common theme, a form of serendipity, without revolving around a "topic". See it as a group exhibition on paper.

We invite artists who we think would fit to send us contributions. New releases are published about three times per year, comprising 10-15 works, in an edition of 100 numbered copies. Each issue is presented at a release party in an exhibition space.
Issue 1 presentation at Rundgang 11, Akademie der bildenden Künste, Wien
issues
about
bookshops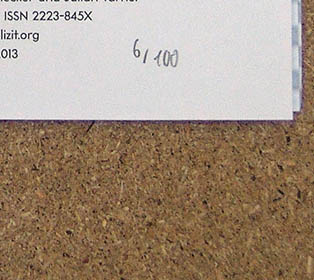 Issue 2 presentation at SAVE YOUR DATE, Vienna
Presentations & release parties
Pro Choice, Vienna
SAVE YOUR DATE, Vienna
L'Ocean Licker, Vienna
COCO, Vienna
Ve.Sch, Vienna
Kurzbauergasse Bierautomat, Vienna
Independent Publishers & Zine Fair, Kunsthalle, Vienna
C 1.02, Brussels
I Never Read, Art Book Fair Basel
Bar du Bois
, Wien
artists